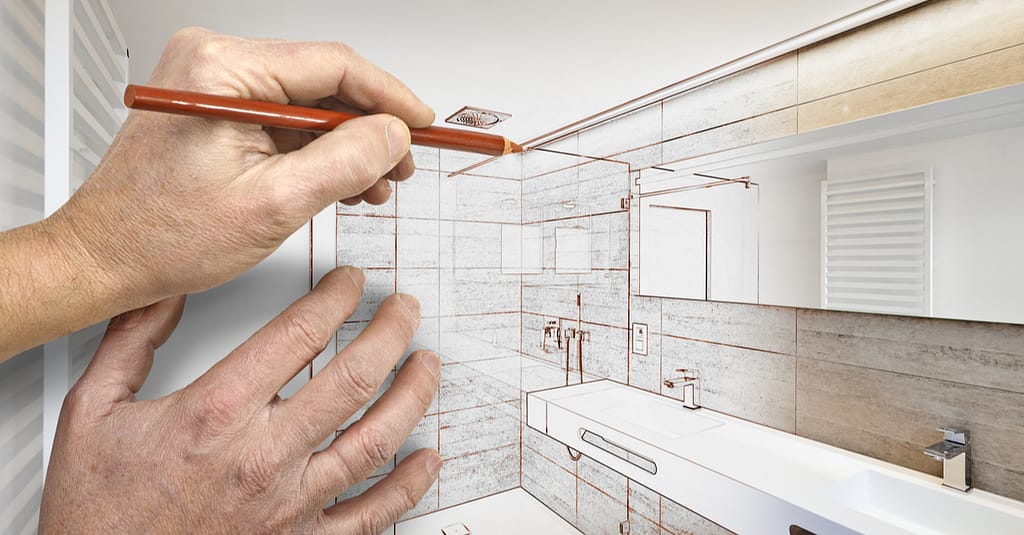 A bathroom by its very nature is an intimate space that is intended to relax and rejuvenate the body. Is that even possible if a bathroom is poorly designed?
The often-forgotten bathroom serves many functions and, when thoughtfully designed, mirrors your style and personality.
Perhaps you seek a spa-like experience or have found that age has crept up on you and you need a layout that is easily accessible and safe, or maybe your just tired of your friends and family asking you why you chose that 70s style wallpaper and color-coordinated orange bathtub. Whatever your reason may be for engaging in a bathroom remodel project, do make sure that it has been properly carried out by experts that can not only get the bathroom remodeling job done correctly but in a manner that respects your time and home. 
The professional home remodelers at K-Designers have over 42 years of experience in providing superior service throughout the entire process — from planning and design to installation. We understand the needs of homeowners and their bathroom remodel ideas — as a result, we provide a customized bathroom design plan for each customer. 
This unique bathroom design service helps us work with you to select the right style and products for your bathroom remodeling project so that we can create the gorgeous bathroom you've always desired. Our team of professionals will work with you and your bathroom ideas to create the luxury bathroom of your dreams. 
We'll remodel your bath using products from America's Dream Bath Systems, a line of affordable and attractive bathtubs, shower bases, wall finishes, and fixtures that are custom-designed to fit any bathroom.
These products are made for K-Designers and they offer several benefits, including:
Durable materials resistant to chipping, peeling, and staining.
Easy cleaning and maintenance.
Mold and mildew protection.
A variety of color and style options to help create a customized look.
Lifetime Warranty*
Everything from our custom bathtub and shower bases to our shower doors and fixtures come with these advantages. We also offer an array of bath accessories to complete your bathroom remodeling. 
You may ask yourself how much will new bathroom remodel cost?  Our professional team works with each homeowner to develop a unique design that will enhance the style and worth of their home and stay within their budget.
These products and services are affordable and easy to finance with zero down payment and easy terms for qualified customers. Furthermore, all of our home bathroom remodeling services are conducted by certified, trained installers that you can feel comfortable inviting into your home. 
We offer all of our customers a 100% satisfaction guarantee, and we've been recognized as the 'Revere Premium Renovator of the Year' for our excellent service, workmanship, and professional business ethics for nine years in a row.
We work not only in Sacramento, Roseville, Rocklin, Lincoln, Rancho Cordova, Citrus Heights, Loomis, Yuba City, Folsom, Auburn, Grass Valley, Placerville, Cameron Park, El Dorado Hills, Dixon, Stockton, Vacaville, Fairfield, Vallejo, bay area but in all of California and 17 different states.
To learn more about bathroom remodeling from K-Designers, contact us today for a free estimate.
* A Lifetime warranty applies to the product and remains valid as long as the original purchaser owns the home. Warranties are available upon request.