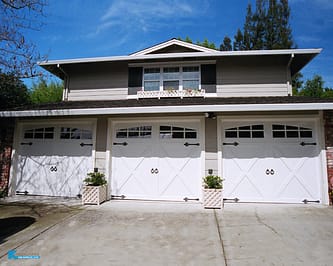 The garage door is a dominant feature on most home's exteriors. You probably see and use your garage door every day. Despite a garage door's significance to a home, they often lack maintenance by homeowners. There are times that replacing your garage door is significant. Learn when in this blog article:
Add Curb Appeal

Garage doors are often the prominent feature in the front of a home. The door can take up 40 percent of your home's design. A battered garage door can break a visitors first impression. You should have a garage door with the design, finishes, and hardware that you love.
Decrease Energy Costs

In a busy household, the garage door gets lifted and closed multiple times throughout the entire day. If your garage is attached to your home, this adds costs to your energy bill. Now there is garage door insulation to prevent heat loss from your garage. On a cold winter day, an insulated garage can be 10-20 degrees warmer than an uninsulated garage.
Positive Return-On-Investment

A garage door has a positive return-on-investment when it is time to sell. In the Cost Vs Value report, a garage door installation has a 91.5% return. It is important to speak with an experienced home remodeler who knows what garage door would have the best ROI for your home.
K-Designers provides superior home remodeling services nationwide. Contact us today for more information on a garage door installation at (877) 847-0855 to get your free estimate.