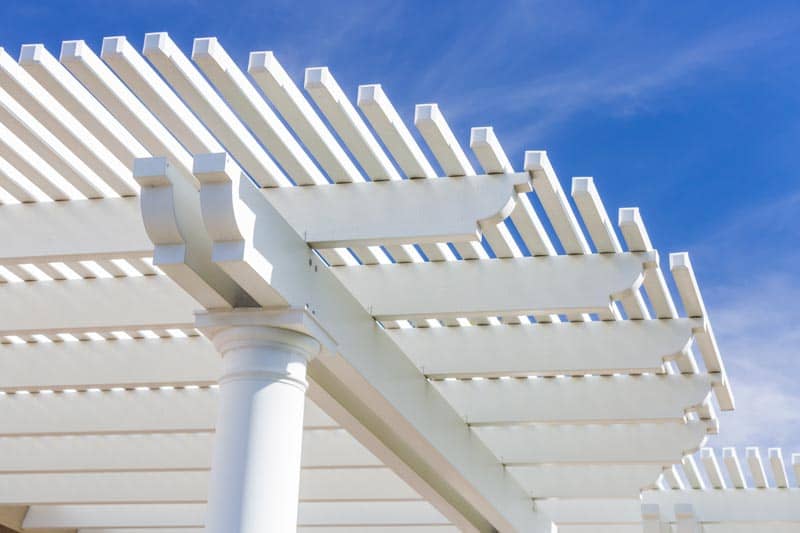 Patio covers are the perfect solution for homeowners everywhere who want to spend more time relaxing outdoors.
Patio covers are fully customizable to fit your lifestyle and your budget. America's Dream Koolshade Structures from K-Designers make a beautiful addition to any home by creating a more usable outside space, and they're a formidable barrier against the elements.
With a new patio cover, getting rained on can be a thing of the past, and you'll be able to enjoy more fresh air without fear of getting too much exposure to the sun. Special features like built-in water misters can reduce the temperature by as much as 15 degrees — making your patio a welcoming oasis even on a blazing hot summer day. Patio covers also limit the sun exposure your home gets in the summer, decreasing your cooling costs.
These benefits and more will be yours when you choose K-Designers. We are a patio covers expert and a home remodeling leader that has been in business since 1978, which has given us decades of experience. Furthermore, we are helping residents in cities like Billings, Portland, Omaha, Seattle, and beyond add value to their homes.
We offer quality patio covers at competitive prices. Our certified installation crews are available 7 days a week to accommodate your schedule. What sets K-Designers apart from our competitors is our passion for creating personalized design plans that include patio covers, siding, bathroom remodeling, and just about everything in between.
Additionally, we offer the following:
Free estimates
A 100% satisfaction Guarantee
A virtually maintenance-free product.
Turn-key financing packages

Includes zero down and easy terms for qualified homeowners.

A Lifetime Warranty*
And more
For your convenience, one of our trained design professionals can meet with you in the comfort of your own home. We can review all the renovation options that are available to you through K-Designers.
So what are you waiting for? Contact us today and see how comfortable and attractive your patio can be!
* The Limited Lifetime Warranty applies to the product and is valid for the life of the owner. In the event that the owner chooses to sell her or his home within the first 10 years, then the Warranty may be transferred to the new owner in the form of a 50-Year Warranty that is prorated from the date on which the product was initially installed. The Warranty can be viewed prior to purchasing.