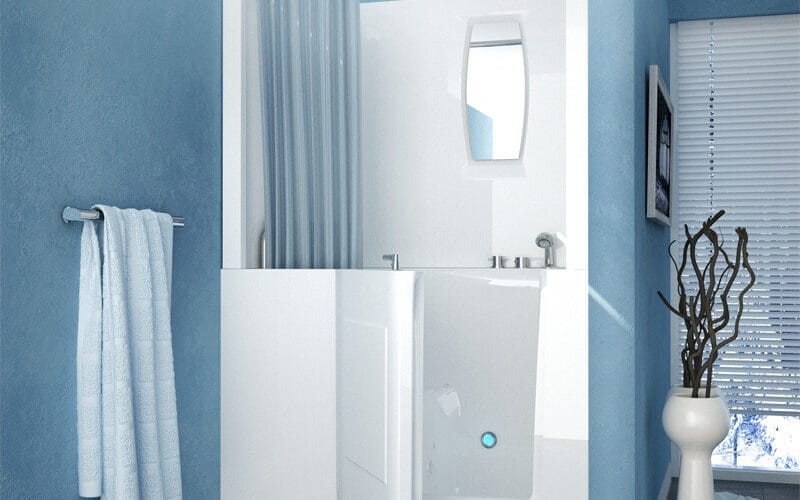 It's time to start enjoying the benefits of a walk-in tub!
K-Designers walk-in tubs, as the name implies, allow a user to open the side of the tub and simply walk in instead of stepping over the side like you would if you were using a traditional tub. This method of entrance and exit was devised to enable easy use of the tub by older, injured, or disabled persons.
Walk-in tubs are designed to satisfy the needs of seniors, the disabled, handicapped, or anyone with mobility challenges.
Statistics have shown that falls occur in your bathroom more often than in any other room in your house.
The Center for Disease Control tells us that two-thirds of bathroom injuries happen near your tub or shower. Usually, they happen when you step over your tub wall or slip on a wet floor, or when you lean on a glass door that wasn't designed to support your weight.
It's another fact of life that these bathroom injuries increase significantly after you turn 65. This is often when your eyesight starts to fade, and you have less mobility and balance.
The bottom line? One in three adults over 65 experience falls each year.
With this having been mentioned, walk-in tubs aren't just for those that are disabled. Just about anyone can enjoy the sauna-like benefits — hydrotherapy and air therapy have been added over the years, greatly expanding their popularity.
Walk-In tubs have a variety of benefits:
A walk-in entrance/exit will reduce the risk of slipping and falling injuries.
Luxurious hydro-therapeutic features can ease sore muscles.
Relaxing Air Therapy can relieve stress and awaken the senses.
They're small enough to replace a shower stall or tub.
Shower and tub combos allow multiple uses of the tub.
Many of our walk-in tubs are ADA Compliant.*
If you are interested in obtaining additional information regarding walk-in tubs, then simply contact us so that we can take you through all of the options to help you get the exact tub that matches your needs.
Call or e-mail us now for your free no-obligation quote!
[embedyt] https://www.youtube.com/watch?v=xnSE-Yv4cD8[/embedyt]
* Ask us for a list of our ADA (Americans with Disabilities Act) compliant walk-in tubs.